The First Step In An Aggressive OWI Defense
Administrative Review Hearings in Wisconsin
Madison, WI OWI Attorneys
Administrative Hearing
If you submitted to a chemical test of your breath or blood after being arrested, and that test indicated a prohibited alcohol concentration or a detectable amount of a restricted controlled substance, the DOT will administratively suspend your driving privileges for six months. This is known as an administrative suspension and is separate from any revocation associated with the penalties for an OWI conviction. However, you do have a right to obtain administrative and judicial review of the suspension under the provisions of Wis. Stat. § 343.305(8). This is commonly known as an administrative review hearing.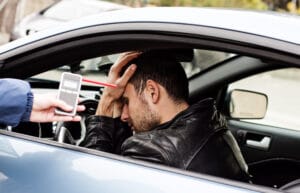 Ten days to request an Administrative Review
You only have the right to an administrative review hearing if you request one within ten days of receiving notice. That timeframe is thirteen days if the notice was mailed to you. The date of notice is found on the Notice of Intent to Suspend Operating Privilege document. You should have received this document on the date of your arrest. If you submitted to a blood sample, the notice was likely mailed to you. It is important to contact a Wisconsin OWI Attorney like DK Anderson, S.C. to request this hearing in a timely fashion.
Administrative Review Hearings can be an important step in fighting your OWI charge
The administrative review hearing is important for a couple of reasons. First, it provides an opportunity to conduct a cross-examination of the officer who arrested you. At DK Anderson, S.C., we always subpoena the arresting officer. Second, the hearing allows for us to get an early look at the evidence against you. Occasionally possible defenses to your case may be reveled. Finally, if we are victorious at the Administrative Review Hearing you will keep your license pending the outcome of your court case.